We love working with people who know what they want. We won't be offended or feel creatively stifled if you have specific requests or ideas for your party. We also feel passionately about your guests and the space you've created for them. Our staff is trained to be attentive to the needs of your guests at all times while being respectful of your property and privacy. Anyone who walks into your home or event space is treated with care and dignity by our staff.
Planning ahead is critical to our success. To us, creating an experience your guests will never forget doesn't just start and end with food. We want you to feel the freedom to be with your guests without worrying about whether there's toilet paper in the bathroom or enough hors d'oeuvres. Hosting is a holistic experience. You won't find our team dropping off food and walking away. We're there from beginning to end!
Services We Offer
Cocktail Reception
Imagine an event where your guests arrive to a beautiful setting, delicious aromas wafting from the kitchen and a smiling staff. Our food aims to be delectable, memorable but manageable. Minimized messes, appropriate portions and unobtrusive servers.
View More Information About Our Cocktail Reception Catering Services
Corporate Reception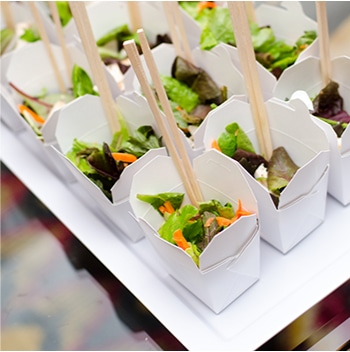 There is no reason to have mediocre food when the office orders in. Hire Made by Meg Corporate Catering for something new in both taste and service. We also deliver for Employee Celebrations, Important Meetings or VIP Client Events. We're the perfect option if you're trying to make an impression. Our quality food is easy to eat in front of a crowd and on-time: two things that make any manager proud. If you're looking to take food on the go to a company picnic, off-site meeting or to a concert, we can have it packed accordingly.
View More Information About Our Corporate Reception Catering Services
Wedding Catering
This is one day you don't want to skimp on food. Let us make your wedding day special with thoughtful menu design, courteous staff and playful flourishes of style. We are able to accommodate several different formats for your reception: Butler Passed Hors d'oeuvres & Cocktail Hour, Plated Sit-Down Dinners, Tasting Menus, Buffets and Dessert Tables. Food is one of the most memorable parts of your wedding. Let us make that memory a delicious one.
View More Information About Our Wedding Catering Services
Special Occasions
If you have a celebration coming up and you need an extra hand making it special, our catering services are designed to provide that added special touch. Whether you're hosting an anniversary celebration, bat mitzvah, bar mitzvah, engagement or a graduation party, we're available to work with you to create a menu that fits your theme and vision. Whatever the occasion, we're looking forward to celebrating with you!
View More Information About Our Special Occasions Catering Services
---
We're excited to talk our menu with you and are excited to share our full catering menu with you here:
Need help with the next holiday meal? Click here for the latest holiday menu:
Take a look at some of our previous events to get a better idea of how we execute our philosophy on catering for each service option:
SaveSave